Date: Saturday, September 8, 2007
Time: Registration begins at 12:30 pm. Tournament begins at 1:45 pm.
Cost: Registration fee is $3.00 per participant. Spectator fee is $1.00. Family members of registered Duelists enter free.
Location:
Tecumseh Housing Authority Building
601 Leisure Drive
Tecumseh, OK 74873
Click here to get directions from Google Maps
Basic Information
Relive the adventures of Yugi and his friends in a Duelist Kingdom-style tournament! Players will receive Star Chips which must be wagered in battle against opponents of their own choosing. The players who obtain the most Star Chips will participate in sudden-death playoffs to determine the top three Duelists, who will receive the great prizes shown below.
Duelists age seven and older are eligible to participate. Children under 10 must be accompanied by a legal guardian or responsible adult. Gameplay will follow the official rules of the Yu-Gi-Oh! Trading Card Game with no Banned Card list ("Traditional Format" play) and a modified Limitations list. Please review the detailed Tournament Rules and Card Limitations which are linked below. A debriefing session will be held at 1:45 to review the rules with all present duelists. Please note this event is unofficial and is not sanctioned by Upper Deck.
Click Here for Tournament Rules and Guidelines

1ST PRIZE

Yu-Gi-Oh! Ultimate Edition 2
Featuring Dragon Master Knight variant,
two powerful Dark Revelation 2 booster packs,
and a collectable Ultimate Dueling Guide!
25 total cards.
2ND PRIZE

Aster Phoenix and Jaden Yuki 2 Duelist Packs
These brand-new sets contain new cards from
your favorite Yu-Gi-Oh! GX duelists that you can
use to build a character deck, or enhance your own.
12 total cards.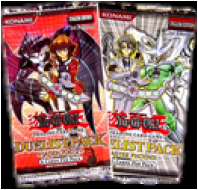 3RD PRIZE

Pharaoh's Servant Classic Booster Pack
Hard-to-find, out-of-print booster set. Cards in this
set include Jinzo, Imperial Order, Thousand-Eyes
Restrict, Limiter Removal, Morphing Jar #2, and more.
9 total cards.